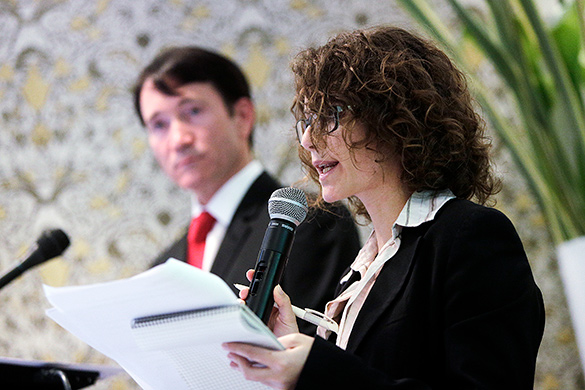 Nowadays most international conferences require a professional multilingual communication service that allows participants to speak without constraint in their own languages and within their own cultural contexts, comfortable in the knowledge that all participants can understand them.
In other words, working with professional interpreters is crucial both to the organisation of a multilingual conference and the preparation of a business meeting or trip.
If you need an interpreter for your conference or business meeting or you need the translation of documents write or call me. I provide translation and interpreting services in Italian, English and French.
What my clients say about me
"I have worked with Vera on several interpreting assignments ranging from medical, legal, and pharma conferences. She has always done an amazing job and not only met, but exceeded our client's expectations."
Project Director – Interpretation Coordination Translation and Interpreting company, USA
"Good news by the way, we have received an additional request from Xxx for a potential assignment on the 17th January. The client specifically instructed us that should this job go ahead then they wanted both you and Xxx to attend! I would just like to thank you for your continued support with our sometimes difficult clients, it is obvious that you excel in your field of work and we are proud to collaborate with a professional such as yourself."
Senior Project Manager Interpreting and Translation company, UK
"At a recent European conference I met a young interpreter who struck me as promising. It was with surprising grace and apparent ease that she simultaneously translated the interventions of high-ranking MS representatives."
Technical Officer European Office for Investment for Health and Development, WHO
"Thank you for your help all along and for your flexibility when we had problems with this project. It's always a pleasure to work with you."
Project Manager Translation and Interpreting company, UK
"What fun, Vera, working with you! Grazie mille ancora, per l'amicizia."
Robert A. Neimeyer Ph.D., Professor in the Department of Psychology, University of Memphis
"Thank you again for your nice and devoted translation work. You are a real professional!"
Project Director Interpretation Coordination, Translation and Interpreting company, Spain
"Your Italian interpretation and translation skills were an essential part of helping our 30 guests from 17 nations join together with members of PeacefuI Tomorrows to create a new community working to break the cycle of violence and to create a more peacefuI world for everyone. Thank you for being such an important part of our group this September, and for your thoughtfulness, commitment and professionalism."
Director Peaceful Tomorrows
"Vera, our chief of translators in our events! She's young, talented, kind, skilled… I have no words to explain how grateful we are: Vera has worked also in complex simultaneous translations where speakers have anticipated no presentation or without having a clear view, and she has worked perfectly… and without complains."
Owner Conference Organiser, Italy
"Vera worked as an intern here at United Nations Headquarters, helping the Organization and me improve our terminology database, UNTERM. She was highly reliable and conscientious, in terms of her approach to her work and to people in general, and her language skills were excellent."
William Warner UN Headquarters, New York